New Girl S2 ep15 The Cooler
Plot: The guys decide to go out without Jess as their wing man because she's actually a Cooler. Jess spends time alone in the loft, where her imagination gets the better of her. Brooklyn Decker & Brenda Strong stop by for a sexy version of the drinking game True American. Rules can be found here
True American Rules
You're welcome. :) Nick wears a Woman's trench coat Lastly, one of the hottest on-screen kisses I've seen in quite a while. Let's get to the important stuff though. The fashion:
The boys are back at the bar that Nick works at because apparently that freaky women's trench coat scared the girls at the club. They probably thought he was a flasher. Schmidt always wears his work wear out. Why? This is not happy hour. Change. Winston looks the best in a sharp leather jacket. Not sure about what he's wearing under it though.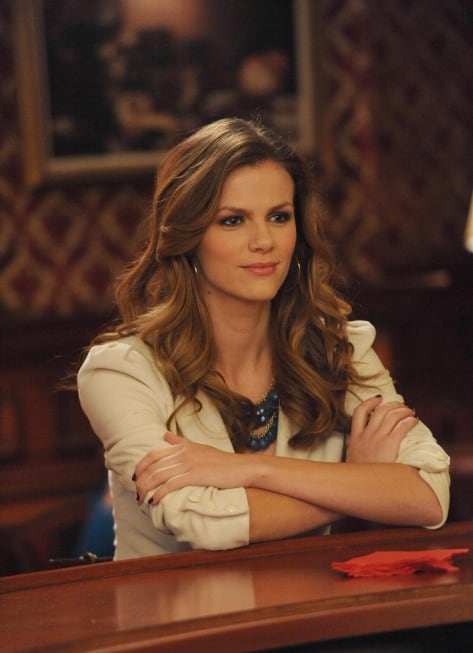 Enter Brooklyn Decker looking quite lovely with that strawberry blonde hair. Great cream & navy combination going.
Here are similar versions of that blazer
THEYSKENS' THEORY blazer
Dorothy Perkins Cream jersey blazer
Here she is later at the loft playing True American As you see she's taken the cream blazer off & revealed a boring tank that doesn't go with the rest of the outfit. Cute hat, though I'm not sure where it came from.
Winston tries to hit on Brenda Strong at the bar who looks cute but too old in a Jackie O inspired jacket.
This is what she wore underneath her jacket. Appears to be a black shirt dress & tan belt combo. Not sure how that belt goes with the outfit if you include the jacket, but it looks chic here with the dress.
This is what Jess does alone in the loft. Gets lonely and makes a Nick dummy. Cute dress/top she holding though.
Then runs around without any pants on.
Makes a robot costume out of a cardboard box. I just moved into a new place. I'm totally gonna do that.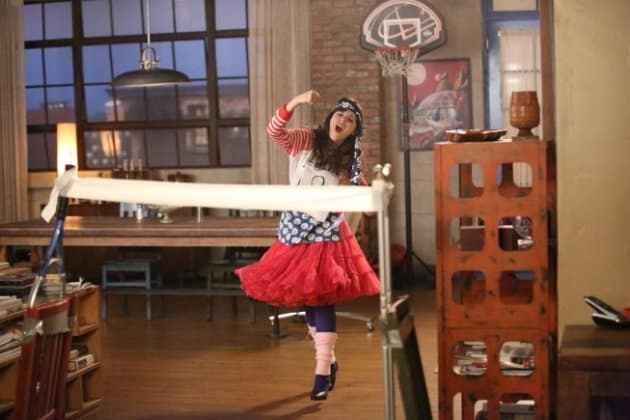 Pretends to be a track star. I ran track in high school. I did not dress like that.
Then her imagination gets the better of her, and she's convinced The Crips gang have come for her & her blue rival gang colored curtains. IF anything, they're coming for that head wrap.
A full shot of Nick's woman trench coat that I want to steal. As for Jess, she's wearing a petticoat from her costume trunk leftover from childhood & a cute striped top I would wear now. And grape purple tights I wore when I was 7.
If you haven't figured it out by the disappearing clothing, the "sexy" part of this version of True American is that it's a strip version. She just happened to have a cute bra on.
Here's the bra on Ebay & the same style in different colors : I give credit to www.wwzdw.com
Ebay
$69 for set
Victoria's Secret
$52+
That adorable pink ruffled robe we've seen in many episodes appears. Yay for consistency.
The kiss that finally happened. Yay! I just wish Jess didn't have a bf. That's awkward. Let the love triangle portion of this season begin.